Disable Incognito Mode Chrome Windows 10:
When you visit a website on Google Chrome, the browser saves the page's critical data to your hard drive. These files are used for a variety of functions, including preserving the history of your visits to a website in a text file called a cookie.
However, this information is utilized to enhance the browsing experience. On the other hand, if you value your privacy, this is also a privacy violation. To assist users with this, all modern browsers, including Google Chrome, provide an Incognito mode.
Google Chrome Incognito mode safeguards your overall privacy by deleting any locally stored data that may be retrieved later. This mode disables the Chrome browser's web cache and browsing history. Additionally, Incognito mode is referred to as Private Browsing, Private Window, InPrivate Browsing, Porn mode, and Private mode.
Incognito Mode is a convenient feature included with the Chrome browser. To enable Incognito mode in Chrome, follow these steps:
1. In the top right corner of the screen, click on the three-dot menu icon.
2. Select New Incognito Windows from the menu.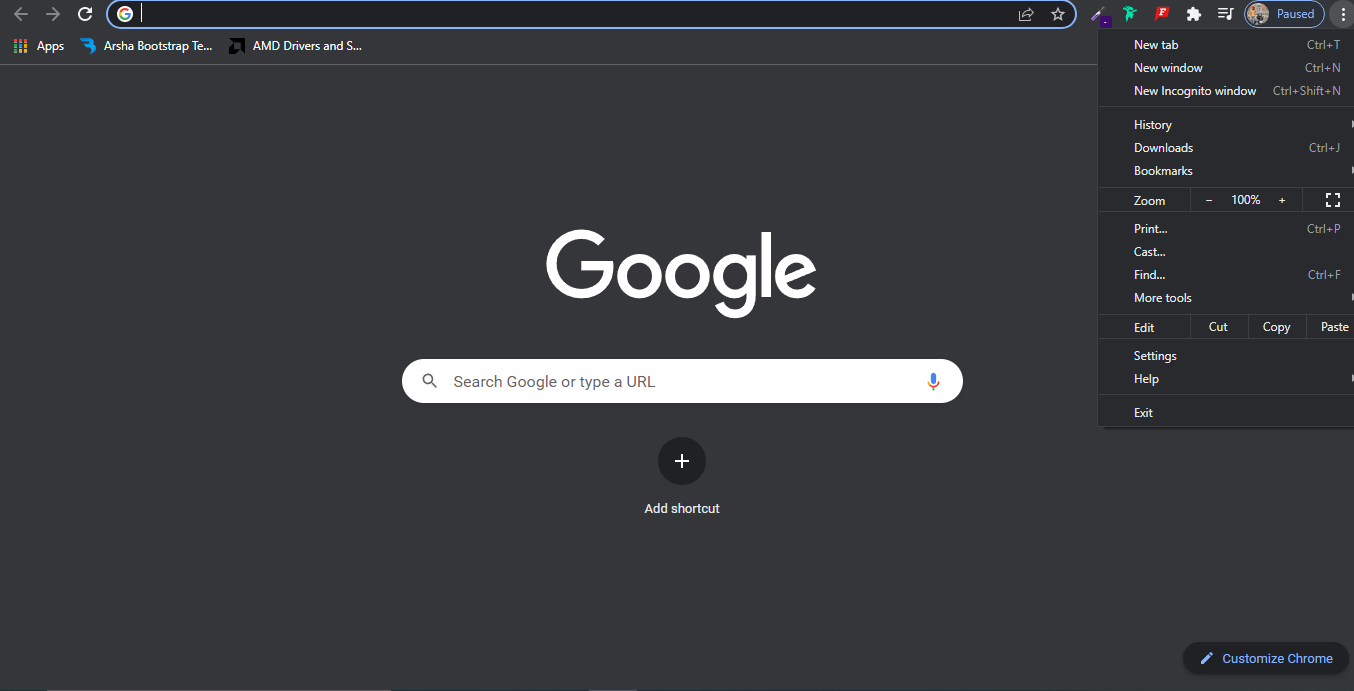 Alternatively, you can rapidly open it by pressing the CTRL + SHIFT + N keyboard sequence.
Additionally, you may wish to discover How to Start Google Chrome in Safe Mode.
However, some users choose to disable Chrome's Incognito Mode in Windows 10. They may choose to disengage Incognito mode for a variety of reasons. Perhaps their astute children are use Incognito mode to access websites that are not appropriate for them. Or there may be further compelling reasons that I am unaware of.
You might be interested in reading blog post on Fix 'status_access_violation' Error in Chrome and Edge
Disable Incognito Mode of Chrome in Windows 10
Whatever the rationale for deactivating Google Chrome's incognito mode, the reality is that there is no official setting in the browser that disables the Incognito mode. However, this does not exclude you from doing so.
There is a solution for disabling Incognito mode in the Chrome browser.
What you need to do is as follows:
Things to Keep in mind:
We've verified that this workaround works beautifully on Chrome v80.
You must have administrative access to the account or the administrator account's credentials.
If this is your first time using the Registry hack, it is recommended that you generate a backup of the registry before editing it.
1. Begin by launching Registry Editor. In the Start menu search bar, type regedit. Click to open the same result that shows in the search results.
When the User Account Control dialog box appears, click Yes to proceed.
2. Next, copy-paste the following into the Address bar of the Registry editor: ComputerHKEY LOCAL MACHINESOFTWAREPolicies and hit enter.
3. Right-click on Policies > New > Key in the left side and rename it Google. You must perform this step if Google Key is not available under; else, skip this step.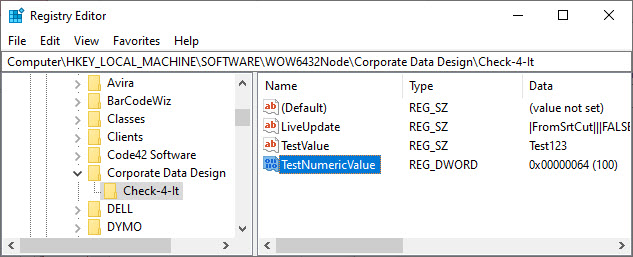 Using the same approach as above, you must create a Chrome key within Google.
4. On the right, right-click and pick DWORD (32-bit) value and name it IncognitoModeAvailability from the menu.
Note: In case, you're running 64-bit machine, still you need to create 32-bit DWORD value.
5. You must set Value data 1 for the DWORD value IncognitoModeAvailability. This is accomplished by double-clicking the key, typing the value, and clicking OK.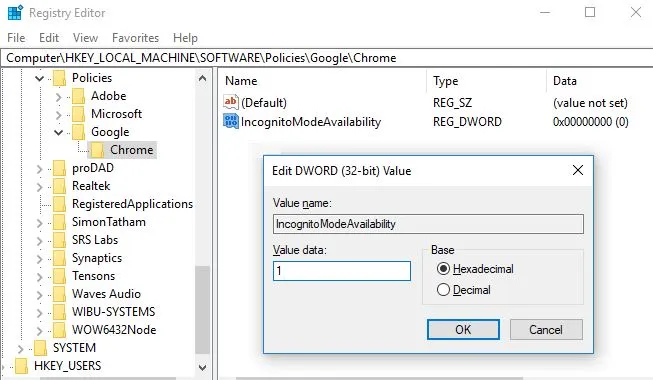 6. Ensure that the Registry editor is closed.
If Chrome is already operating, close it and relaunch it. You'll note that the Chrome menu item "New Incognito Window" is missing.
If you ever wish to restore Incognito mode in Chrome, simply repeat the previous procedures and change the Value data of IncognitoModeAvailability from 1 to 0.
To be honest, if the procedures are followed correctly, this workaround will disable Chrome's Incognito mode in Windows 10. We personally verified that this workaround works beautifully.
You can also disable Incognito mode in Microsoft Edge browser, learn how to do it: How to Disable Microsoft Edge InPrivate Browsing Mode in Windows 10
For step-by-step instructions, view this YouTube video:
Consider this workaround to be beneficial? What is your rationale for removing Chrome's Incognito mode? Let me know what you think in the comments section.