Are you bored with Omegle and seeking a different experience? Fortunately, there are numerous websites similar to Omegle, and we will discuss some of the best in this article.
Omegle is AMAZING! It is a free online chat website that allows users to socialize with strangers without having to create an account. It has an excellent premise; when you visit the site, it immediately connects you to strangers. On Omegle, you may connect with girls, share your interests and hobbies, and exchange ideas via text or video chat.
While using these sites for an extended period of time, you will come across marketers, scammers, and those that want you to join their paid talking site. That is not to say that these sites are devoid of genuine users. They do exist, but you must sift through the clutter to discover them.
Read More: HP TECHNICAL SUPPORT FOR COMPUTERS AND LAPTOPS
As is customary, there are other websites, or what you might refer to as Omegle alternatives, that allow you to speak with strangers online. In this article, we'll cover some more websites similar to Omegle that allow users to meet new people.
Note: The websites recommended in this blog post are appropriate for everyone. Certain websites are unmonitored and unmoderated, which is why we have labeled this blog post as Not Safe For Work.
Best Websites Like Omegle (Alternatives)
1. Tinychat
Tinychat provides completely free video chat rooms. There, you can meet new people and create a chat room of your own. There is no need to register, there are no downloads, and there are no problems!
2. Camfrog
Camfrog is a global platform for chatting and meeting new people. You can create free video chat rooms, online group chats, and live cameras there.
3. Chatroulette
Chatroulette enables you to video chat with random strangers from all around the world. It includes a feature that prevents uninvited visitors.
4. Chatrandom
Chatrandom is a free random video chat application that enables you to meet strangers via your webcam. It's comparable to Yahoo Messenger.
5. Faceflow
Faceflow enables you to have free text and video chats with your online friends. After creating an account on the internet, you can connect with incredible new people from all around the world.
6. iMeetzu
Imeetzu enables instant communication with a random stranger. It is seen as a viable substitute for Omegle, Chatroulette, and Camzap. Initially, it was a text-only talking platform, but over time, features such as video chat and dating were added.
7. Yapchat
Yapchat provides a completely free webcam chat room. You can use it to make new acquaintances from all over the world via text or webcam chat.
8. Paltalk
Paltalk is one of the most popular video chat room communities on the internet. By using short conversations and video calls, you can meet new people and make new acquaintances.
9. Chatpig
Chatpig is a free video chat website that connects you with random folks from all over the world for some hot video chat fun.
10. Bazoocam
You can communicate with random people who live nearby and are also using a webcam on Bazcoocam. It is a completely free service that does not require registration.
11. ChatRad
ChatRad is a similar to Omegle in that it is a free random chat platform. On the platform, you can meet new people, sing a song, look for romance, play an instrument, converse with strangers, and have fun participating in random cam chat.
12. Fruzo
Fruzo is an excellent location to meet new people, make new friends, and find a date. You can use video chat to communicate with people who live nearby or from different areas of the world.
13. Chatki
Chatki is another site similar to Omegle that utilises Chatrandom. You can use your camera to speak with random folks on the site.
14. Shagle
Shagle is a free random video chat service available on the internet that gives life cam to cam communication with random individuals.
15. ChatHub
ChatHub is a good alternative to Omegle. It gives you an option to choose your chat buddies as per your choices like gender, language, and the nation as well.
16. Chatspin
Chatspin is a free random video chat application that includes a facemask, private chat filters, and numerous other customization options.
17. Ometv
Ometv is a chatroulette-style website that allows you to have free web chats with strangers from all around the world; it is another good alternative to omegle.
18. Emerald Chat
Emerald is another excellent omegle substitute that provides a more modern chat experience. You can connect with random folks from all around the world on the web. You can begin by using Text Chat, Video Chat, or Group Chat.
19. Video Chat Alternative
Alternative Video Chat is a random online dating platform for people who want to chat with strangers. On the websites, you can communicate with strangers and create new acquaintances from all over the world.
20. Camsurf
With Camsurf, you can instantly video chat with random strangers. There are video chat platforms that make it easy for users to meet new people from all around the world.
21. FunYo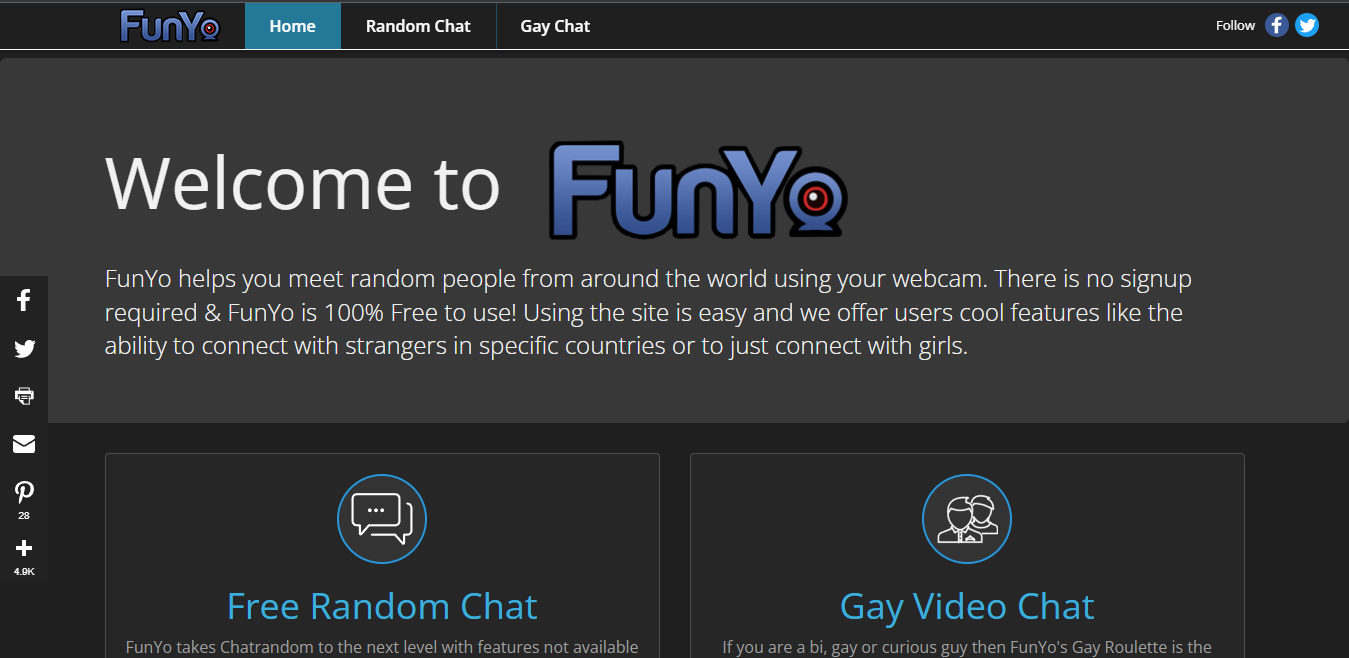 With the aid of a webcam, FunYo enables you to meet strangers from all over the world. It enables users to connect with random people in specific nations or simply with females.
22. Camgo
Whatever you're looking for in an online social interaction, Camgo's cam to cam chat room is almost certain to have it. You can choose between webcam and text chat; each user controls how long they stay in a chat, and it's simple to narrow your search for more accurate matches.
Whether you're looking for friendship, romance, or simply basic connection, Camgo has hundreds of prospective matches waiting to be discovered. We all require social interaction on occasion, and the more we can obtain without leaving the house, the better!
Chat Safely when you are online
It is a well-known fact that everyone enjoys chatting anonymously or with their real names. It is one of the most popular pastimes for everyone. However, when people are caught in their dreams, they often jeopardize their own security; they become so absorbed in the conversation that they forget about the constraints of conversing with strangers, and occasionally face ramifications beyond their imaginations.
Here are a few points that should be kept in mind while chatting with strangers:
Avoid providing personal details.
A fictitious email address should be setup just for the purpose of conversing.
Always keep in mind that your chatting id should be distinct from your Facebook profile.
You can construct a fictitious Facebook account.
It's risky to meet the person with whom you converse; avoid going alone or avoiding face-to-face meetings with strangers.
Occasionally, someone record the discussion and may cause you embarrassment by capturing some unpleasant stuff.
Be cautious of scammers.
Your safety is entirely under your control. While chatting is a terrific way to have fun, it is critical to protect ourselves from becoming entangled in any undesired situations that are inconvenient for us.
Thus, these are some of the greatest Omegle alternatives. Which do you prefer? Are there any more useful sites similar to Omegle that we missed mentioning in the blog post? Please feel free to leave it in the comments section.
Please do not hesitate to contact us if you want assistance with Windows or its solutions. Our team is always here to help you. (Mention 'Tech Support' in Email Body)